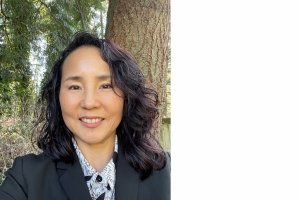 Class of 1990-1991
"I'm passionate about corporate culture, diversity and inclusion, and how organizations can make a positive impact in communities," says Emiko Ando, General Counsel at BlueShore Financial Credit Union. Emiko has made it her mission to help organizations do just that.
Emiko first became interested in legal practice during her commerce degree. She describes her parents as "serial entrepreneurs" and planned to follow in their footsteps. "I thought a law degree would give me a good foundation for business," she explains. Having grown up in Vancouver and lived in Montreal and Tokyo during her undergrad, she was eager to return home to attend law school at UBC.
During her time as a law student, Emiko was actively involved in the Asia Pacific Law Club and organized the first Asia Pacific Legal Forum, as well as other social and networking events. "I have fond memories of participating in the Law Review – the variety show, not the publication," she adds. Among the notable moments during her time at law school, Emiko recalls watching the Gulf War on the 24-inch TV in the Law School cafeteria and attending an assembly after the BC Supreme Court Delgamuukw decision came down, dismissing Aboriginal land title claims, and hearing the perspectives of members of the First Nations Law Group. "Thankfully, this BCSC decision was eventually overturned" says Emiko.
After law school, Emiko went into private practice, before taking on her first in-house role at the Royal Bank of Canada. She recalls feeling concerned at the time that taking that role might make it difficult to move back to private practice. In retrospect, she says, there was no need to worry: "The skills and knowledge you gain in-house are valuable in private practice." Since making that decision, her career as in-house counsel has flourished, and she's continued in in-house roles for nearly thirty years.
In her current role as General Counsel at BlueShore Financial Credit Union, Emiko appreciates the quick pace and breadth of issues she encounters daily: "On any given day, I may be dealing with questions relating to a loan structuring, privacy issue or a fraud matter or working on larger projects such as negotiating software agreements, undertaking a corporate restructuring, or advising on complying with new legislative requirements."
Among her many achievements, Emiko says she feels proud to have represented the Canadian Bankers Association on the Stakeholder Advisory Committee of the Land Title and Survey Authority of BC and working with stakeholders on drafting legislative initiatives such as the First Nations Land Management Act. "The Act removes many barriers to building wealth in Indigenous communities and helps advance self-determination," she says. Emiko also completed three short-term secondments at HSBC Bank Canada, which allowed her to live, work and play in Hong Kong and London and to assume a business role developing financial products.
The one piece of advice she would give to current law students is to build and maintain relationships. "After a few years in practice, what grades you got is not important, but the people you can call on for help can make a huge difference in your practice and life," she says. For Emiko, many of the friends she made in law school have remained close, lifelong friends. "One even became my job share partner at RBC — the first in the legal department — when I was starting my family," she shares.
The best ways to maintain work-life balance is to set boundaries and prioritize life. For Emiko, that includes exercising daily: "I'm a sport enthusiast, so I enjoy playing tennis, skiing, mountain biking and golfing." Emiko is also the co-founder of the Asahi Baseball Association, a Vancouver-based baseball club that provides training for youth and promotes the legacy of the original Japanese-Canadian Asahi team – which was recently inducted into the BC Sports Hall of Fame. Emiko has also co-produced a number of short films which aired on CityTV and were screened across the US and as far as India. Having pursued her many varied interests, Emiko's advice to younger lawyers is this – "do the things you love and share them with others."