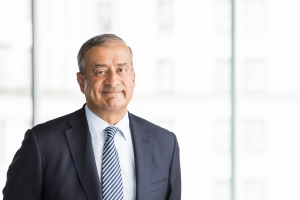 Class of 1983-1984
"To me, law school wasn't just about reading cases, books, and case law," says Harjit Sangra. "Law school teaches you a way of thinking, analyzing, organizing, attacking, and hopefully solving problems, which gives you a tremendous footstool to pursue your dreams."
Harjit is a founding partner at Sangra Moller LLP and a 2022 recipient of the UBC Alumni Builder Awards. As someone who has always been fascinated by the challenges and dynamics of legal practice, Harjit was excited to enroll in the LLB program, and UBC was the clear choice: "I've lived in Vancouver my whole life. So, there was always the natural nexus to UBC and UBC Law."
In addition to honing his problem-solving skills, Harjit says he has many fond memories from his time at UBC. "I was one of those kids who was in a fraternity," he explains. "So back in the day, I met a lot of great friends and a lot of those people turned out to be lifelong friends that I still see today." One of his favourite memories from law school are from a trip to Ottawa and Montreal, to participate in the Law School Games. "I got to spend some extended and fun time with my classmates," he says.
Since law school, Harjit has been in private practice for over 37 years and has made a name for himself as a leading lawyer in the areas of corporate finance, securities, mergers and acquisitions, and natural resources. He's particularly been recognized in Chambers and the Best Lawyers in Canada ranking for many years. Harjit speaks enthusiastically about how much he enjoys the challenge of corporate and securities law: "You get to meet and work with some very smart people on new and different transactions, and I've been fortunate to travel the world doing transactions with clients, whether it's the US, Europe, Asia." He's also thankful he gets to work with colleagues who make legal practice gratifying: "If you're lucky, you get to work with a lot of people you enjoy and respect." That, he says, can make work feel "pretty easy."
In addition to great colleagues, Harjit finds the field fascinating, and highly encourages students who are interested in corporate and commercial law to pursue those interests. "There are new things happening all of the time," he says. "For example, the business world is going through the environmental, social and governance transformation, and businesses need to get to carbon neutral."
Over the years, Harjit has remained closely connected to with the Allard Law community, teaching Advanced Corporate Law as an adjunct professor. "It's been a fascinating experience," he says. "I've especially enjoyed teaching students about public companies, as they play an important role in the economy." For Harjit, interacting with students has been the best part of teaching. He's hopeful that his students will be able to apply the skills and knowledge they've learned in his class as they pursue the many opportunities available to them beyond traditional legal practice.
In addition to his law practice and teaching engagements, Harjit has made it a point to give back to the UBC community. In recognition of his numerous, valuable contributions, he has been named as a 2021-22 recipient of the UBC Alumni Builder Award. "It's probably a little bit funny—when I was at UBC, most people thought I'd be the least involved," Harjit shares. "But when I got into legal practice and saw the great things that UBC was doing, I thought it was important to give back."
Speaking about how he juggles his many commitments while maintaining a healthy work-life balance, Harjit says it's something he contends with daily. "I don't know who's mastered it, but I suggest spending time with the people whose company you enjoy," he advises. For Harjit, this means spending time with family and friends and travelling. "I try to travel a lot for fun," he says. "It's always been one of my interests."