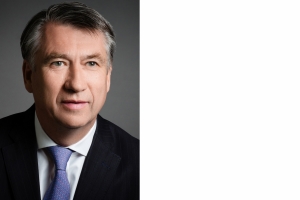 Class of 1981-1982
Just 13 years after graduating from the Peter A. Allard School of Law, Jeff Lowe, QC—then 33 years old—became the managing partner of British Columbia's oldest law firm and continues in that role today.
In more than 30 years with Richards Buell Sutton, Lowe, who was appointed to Queen's Counsel in 2013, has established a successful corporate law practice while overseeing the business of running the firm. His areas of expertise include intellectual property, franchising, and corporate finance as well as mergers and acquisitions.
Lowe said he still credits some of the fundamental lessons he learned as a law student for his success as a lawyer.
"I think the one thing law school really teaches you … is that you try to determine what's important and what's not important—what are really the true legal issues and what are kind the red herrings that don't really matter," Lowe said. "I would say overall that is the biggest tool that I took from [law school]."
Lowe also described his time at law school as deeply influential and memorable. Some of his most salient memories from his time at Allard, he said, include being taught evidence by former Supreme Court of Canada Chief Justice Beverley McLachlin the same term she was called to the bench.
Lowe also remembers the lasting connection he made with his peers.
"I have friends to this day that I met literally in that first week of law school," he said. "I was actually reunited with a fellow who was my Grade 8 locker partner. We connected back up again in law school and he's probably to this day my closest friend."
Over the course of his career, Lowe has remained involved with the law school given UBC's close and longstanding relationship with Richards Buell Sutton, which helped draft the legislation that created the university in 1908 and has worked with the school ever since.
"RBS has a really deep relationship with UBC … We would describe them as partners," Lowe said. "We feel very proud that we played a little bit of a role in the history of UBC. It's something we talk a lot about in our firm. We're very proud of having such a great client."
In 2019, Richards Buell Sutton generously donated $250,000 to enable the law school to continue operating its Business Law Clinic over five years. The firm had previously donated $1 million to help facilitate the construction of the new law building.
Lowe has also held a number of influential positions in the community, including serving as Vice Chair of the Langara College Board of Governors and volunteering with the Greater Vancouver Food Bank between 2009 and 2019.
"It really comes back to trying to give back something to community that's [allowed] us to be as successful as we have been," he said. "These initiatives are really just about giving back. If you look, we all need a little help at some point in our lives … It can't all be a way one-way street. When this city has been and this province has been as good to us as it has, we want to try to take some meaningful, tangible steps to give back."