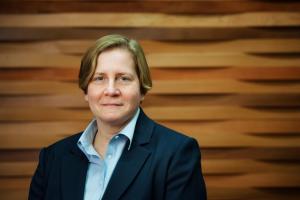 Mary Anne Bobinski, BA, JD, LLM, served as dean of the Allard School of Law from 2003 until 2015. Under her leadership, the law school experienced more than a decade of sustained renewal and growth marked by new programs, enhanced teaching and research, and expanded international reach.
During her two terms as dean, Professor Bobinski worked with faculty, staff and students to establish and carry out an ambitious and comprehensive strategic plan; recruited outstanding scholars and teachers as faculty members; enhanced the curriculum and student services for JD and graduate students; more than doubled the level of externally-supported research; developed closer ties between the law school and both its alumni and the legal profession; secured more than $90 million from donors in support of the Faculty's priorities; and significantly enhanced the law school's national and international linkages. Under her inspiring leadership, the Allard School of Law secured recognition as one of Canada and the world's leading centres for legal education and research.
Dean Bobinski's efforts to address the law school's need for a new building and a strong endowment are of particular note. Early in her first term, Dean Bobinski initiated a new building campaign. Through developing a strong relationship with the legal community and fostering closer links with alumni around the world, Dean Bobinski inspired the support required to ensure the success of the campaign. Private fundraising for the building totaled nearly $35 million, making the campaign the most successful private fundraising effort in history for a Canadian law school building. The campaign concluded with a significant gift from alumnus Mr. Peter A. Allard, QC, which was commemorated in the naming of Allard Hall.
In 2015, Dean Bobinski announced a second transformational gift of $30 million from Mr. Allard. The Faculty of Law was proudly named the Peter A. Allard School of Law in honour of Mr. Allard's contribution, which is the largest single donation in history to a Canadian law school. The announcement was coupled with a new campaign to further enhance the law school's endowment to benefit future generations.
Dean Bobinski's vision for Allard Hall and the Allard School of Law included the creation of an environment that would reflect law's deep connection with the pursuit of justice while inspiring active learning, engagement and debate about law for students, faculty, staff and visitors.
On April 21, 2015 nearly 350 alumni, students, staff, and supporters gathered in downtown Vancouver to pay tribute to Dean Bobinski. The event included a special video tribute including remarks from faculty, students, staff, and friends of the law school.
Mary Anne Bobinski continues to serve as a Professor at the Allard School of Law. Prior to the Allard School of Law, she served as the John and Rebecca Moores Professor of Law and Director of the Health Law and Policy Institute at the University of Houston Law Center in the United States. Professor Bobinski's research and teaching interests include Torts, health law, health care finance and bioethics, legal aspects of HIV infection, and reproductive health law issues. She is a co-author of two leading law school casebooks in the United States, Health Care Law & Ethics and AIDS Policy and Law; the co-author/co-editor of a two volume set on medical ethics; and has authored a number of law review articles and book chapters on health law topics. Professor Bobinski has participated extensively in academic and professional service activities, and recently completed service as the President of the American Society of Law, Medicine and Ethics and as a member of the Canadian Public Health Officer's Ethics Advisory Committee. She is a frequent presenter to academic and other groups in the U.S. and Canada on topics ranging from health care finance to public health care law and ethics.