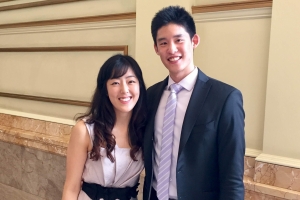 Class of 2012-2013
Nicco Bautista and Maria Kim-Bautista both immigrated to Vancouver as children. They are both the first people in their families to attend law school and have both established themselves as successful lawyers in the city.
Now, they're sharing a simple yet powerful message with law students of Asian heritage: "You belong."
The couple first became acquaintances during their time as undergraduates at UBC. They later reconnected when Maria transferred to the Allard School of Law after completing her first year at the University of Alberta.
"I remember him saying, 'Don't worry, Maria. You'll fit right in. I'll introduce you to all my friends and I'll take care of you,'" she said. After graduating from Allard in 2013, Nicco—who was born in the Philippines and raised in Richmond—worked in law firms in Malaysia and Singapore before articling at Fasken, where he then stayed on as an associate and used his fluency in several languages to help with client matters as part of the Asia Pacific Practice Group and the Wills, Estates, Tax and Charities Group. In 2018, he joined BMO Private Wealth as Director, Estate Planning.
Maria, who was born in Korea and moved to Canada when she was in Grade 8, began her career at Young Anderson, an experience she said sparked her interest in privacy law. She now practices as a privacy and governance lawyer at Population Data BC at UBC.
Now, Nicco and Maria have established the Kim-Bautista Award in Law, which provides financial assistance to students of Asian heritage who might be facing the same challenges they experienced in entering the legal profession.
"There are a lot of values and emotions that we had in making this award," Nicco said. "We personally see this award as us doing our part in clearly signalling to students of Asian hertiage who may be uncertain if they're worthy of being lawyers because no one else in their family has proven so, that they do indeed belong here at Allard and that this award specifically signals that there's a place for people like us."
As someone who relied on financial aid as a student, Nicco said financial difficulties can not only act as a barrier to entry into the profession but might also influence the career path a law school graduate might take.
"For people of Asian heritage, where their families were brought up in such a way that the children knew that their parents sacrificed everything to come to this new country, and essentially that they were their parents' largest and most valuable investment, there's an extreme pressure for them to perform, an extreme pressure for them to find jobs that are high-paying enough to wipe off that student debt as soon as possible and maybe even take care of their parents down the road," he said.
"The unfortunate by-product, however, is that sometimes students chase positions in firms that don't really align with their interests. They consign themselves to these high-pressure jobs with limited personal satisfaction … So, Maria and I are thinking that if we can ease the pressure a bit for these students who are considering law school, but for whom tuition might be a little bit of a stretch or giving them some financial support to pursue their true legal interest, we can begin to kind of level the playing field here."
According to the couple, the award is also intended to acknowledge the unique challenges students of Asian heritage face and in turn foster a supportive network for those who, like Nicco and Maria, are the first in their families to attend law school and might therefore lack the exposure, insights and connections in the legal community enjoyed by some of their peers.
"My first encounter with a real-life lawyer was at my 1L wine and cheese event, and I can assure that I was one very awkward turtle," Maria said.
"I compare my experience with some of my classmates whose dad is a judge or mom is a partner at a national law firm or uncle is a prosecutor, so law and legal careers are more of a natural dinner time conversation. I don't think people who have access to those connections—which is a privilege—necessarily realize it, but those connections and insights into the legal world are really valuable things that many people can't get access to … It's very difficult to aspire to be something, I think, if you haven't seen enough of that something, like a visible minority judge in Canada."
In the end, Nicco said, a more diverse legal profession not only benefits law students and lawyers of Asian heritage but strengthens the practice of law as a whole.
"I think that to the extent that we can have more people who understand each other, who have the capacity and the patience to learn more about each other's differences, not just to see the differences but to highlight similarities—this is the path forward," he said.