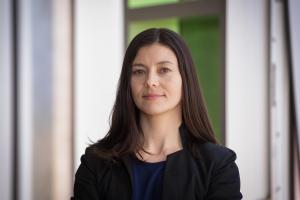 Class of 2010-2011
Patricia Barkaskas is the Academic Director of the Allard School of Law ("Allard") Indigenous Community Legal Clinic, and the incoming director of the Allard Judicial Externship Program. In addition to working closely with law students in these capacities, Barkaskas is a sole practitioner, practicing in the areas of child protection (as parent's counsel) as well as criminal and family law.
Barkaskas was born in Fort McMurray, and is Métis from the Lac Ste. Anne Cree/Métis and Red River Métis communities. She resided in a number of small towns across Alberta and British Columbia before settling down in Calgary at the age of 12. 
Barkaskas has certainly had a relatively unconventional path to becoming a lawyer, one that provided her with ample opportunity to explore diverse and varying interests. After graduating from secondary school, Barkaskas enrolled in a creative writing program at Mount Royal University ("Mount Royal"), only to decide that this was not for her. Barkaskas then started her own non-profit theatre company with the goal of bridging the gap for young actors looking for experience before they could join more professional theatres, and also to highlight unproven or unpublished playwrights. During this time, she pursued modeling and acting opportunities, while also working as a hairstylist. 
Barkaskas decided that it would be a good time to go back to school when she started to raise her own family, and enrolled in the university-transfer program at Mount Royal, ultimately transferring into the Bachelor's of Arts program at the University of Calgary, with a focus on history and women's studies.
"At Mount Royal, I had the opportunity to become exposed and immersed in the arts and culture scene in Calgary," says Barkaskas. "I was involved in the community, helping to raise money for various charities and organizations. It was during this time that I really found my stride as a feminist activist. I was driven to pursue something that would allow me to integrate my passion for social justice and provide an obvious route for me to do social justice work."
It soon became clear to Barkaskas that other universities may offer greater exposure to these disciplines. She transferred to the University of Victoria ("UVic") to complete her studies, given the caliber of their women's studies department, and the fact that the chair of the department personally phoned Barkaskas to encourage her attendance. After visiting the campus, Barkaskas decided that it was a perfect fit.
"UVic was an amazing opportunity to engage in the foundational knowledge for the work that I am doing now, that is, how to make academic, scholarly, or legal issues apply in the real world, and to learn through practice and experiential knowledge."
Barkaskas went on to complete a master's degree in history at the University of British Columbia (UBC), specializing in indigenous histories in North America. After graduation, she worked as a legal historical researcher for the Indian Residential Schools Settlement. It was during the first few months working at Aboriginal Affairs and Northern Development Canada (then known as Indian and Northern Affairs Canada) that she decided to go to law school.
"I did research for residential school survivors and helped them validate their claims," explains Barkaskas. "I decided then that I wanted to do more on the ground practical social justice work. While research is great, it was not enough. I wanted to get people the best settlement possible and be an advocate for them."
 When applying to law schools, Barkaskas was drawn to the Indigenous Legal Studies Clinic (the "Clinic") at UBC, as well as the Law and Social Justice Specialization – she would later graduate having completed both of these programs. Barkaskas started law school in September 2008, and remembers orientation with other Aboriginal students at the First Nations Longhouse.
"At the Longhouse, I remember looking around at everybody and thinking that we were all in this together. I really bonded with the other Aboriginal students, and I felt the same sort of camaraderie with the people in my small group. There was a strong cohort of people who were very concerned with social justice issues, which was very exciting."
Barkaskas was very involved during her time in law school. She was the coordinator for the Centre of Feminist Legal Studies, the first-year representative for the Indigenous Students Legal Association, and volunteered with the Women's Caucus. Barkaskas credits her network, the connections she made with other passionate people, for getting her through law school.
In second-year, Barkaskas enrolled in the Clinic. She found her work at the Clinic to be very influential, as it allowed her to integrate her passion for social justice work and for experiential learning in a practical environment. Barkaskas did not actually have plans to article until she was at the Clinic — the original plan was to go on to policy or academic work in a non-profit setting. The Clinic allowed Barkaskas to see that she could make a career out of social justice in law, and that she could apply legal issues through a social justice lens. 
"I realized that I could employ my passion for social justice for indigenous people at a grassroots level by directly helping them with their legal issues. It seems obvious now, but at the time, I did not see that connection. At the Clinic, we represent Aboriginal people in their legal issues not just through a social justice lens, but also through a de-colonial one. We are talking to courts regularly about how our clients might be different as indigenous persons in Canada because of their legacy of experiences with colonization."  
In 2011, Barkaskas articled with a sole practitioner in criminal law. She went on to gain experience in prison law, as well as civil law. Barkaskas also worked briefly in a law firm to practice family law, acting always as a parent's counsel. From all of these experiences, Barkaskas realized that she could practice any kind of law she wanted once she learned the foundational principles. For Barkaskas, the focus has always been on the type of client, and how she wanted to represent them, rather than the type of law. Eventually, Barkaskas decided to hang her own shingle because this would give her the freedom to shape her own practice. 
Barkaskas maintained a strong connection to the Clinic even after she graduated. At several points in her career, Barkaskas went on board as an assistant lawyer to the Clinic on short-term contracts. In October 2014, she was offered the position of academic director with the Clinic, a role that would allow her to take on a leadership position in the administration of the Clinic. Today, she manages the clinic alongside Alex Wolf, the Legal Director. Barkaskas' enthusiasm about her role with the Clinic is palpable, and she describes the opportunity to work with students as being a privilege.
"The law students are enterprising, excited and passionate about helping the clients. I see them embrace the difficult legal issues for people who really need the help and have no recourse for access to justice unless it is through the Clinic, because they cannot get assistance anywhere else. It is inspiring – I learn so much from the students all the time, not just about bizarre issues in the law, but also the capacity for human dignity, care, and appreciation. I am always humbled by my clients and their resilience given their experiences." 
When asked about how she juggles her role at the Clinic and her practice, Barkaskas admits that it can be difficult: "Both Alex and I work part-time, but we treat it like a full-time position – it is just the nature of the work. We both have our practices as well. For me, it has meant that I have had to dial back the volume of my practice. I am more selective with the matters that I take on now."
During her spare time, Barkaskas unwinds by doing yoga and exploring new culinary experiences. She hopes to brush up on her French, having studied the language as part of her master's degree.
Barkaskas feels incredibly grateful and privileged that her career has taken the path it has in the years that she has been in the legal profession. She appreciates that it is not easy for a lot of people in law school to imagine embarking on a social justice career, as it can be hard to make ends meet.
"A social justice career in law can be hard to imagine. It is possible though, in some cases even right away, given my personal trajectory. However, there is also an amazing opportunity in the first few years of practice to gain lots of experience and knowledge, which can be applied to a social justice practice later on in life. Having a law degree and working in the profession offers a lot of opportunity to do different things."