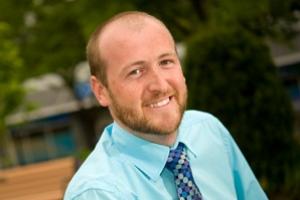 Class of 2009-2010
For many third year law students, post-graduation plans are focused on obtaining an articling position in the Lower Mainland or securing a judicial internship. But for some students, the most interesting opportunities are in smaller, close-knit communities. When Ryan Scorgie graduated, he decided to leave Vancouver and return home to Kamloops.
It might seem like a drastic career change, but for Ryan the transition from adventure tour guide to lawyer was a logical one. After receiving his Adventure Guide Certificate from Thompson Rivers University in Kamloops (yes there is such a thing), Ryan spent some time working as a rafting guide before deciding to pursue a law degree.
"When I was employed in the adventure tourism industry, I got interested in the legal liability and risk management side of it. That's what got me thinking about law school," explained Ryan. "I thought that my understanding in tourism combined with legal knowledge would give me a niche. Of course the seasonal aspect of the job and the income level was another reason to apply to law school."
Despite attending law school in Vancouver, Ryan continued to call Kamloops home - making the five hour trek from Vancouver to Kamloops every weekend by bus to be home with his husband. "I got used to the bus ride. It was actually the perfect opportunity for me to catch up on readings and do homework."
Even during law school he was involved in the Kamloops community through the Faculty's Public Interest Work Placement Program (funded by the Law Foundation of British Columbia) which allowed him to spend one summer working with the Secwepemc Community Justice Program. The program facilitates restorative justice for Aboriginal offenders in Kamloops.
"My immediate supervisor did a lot of the probations work, while my time was spent going with her and talking to the people who were on probation to see how they were doing."
Ryan also helped organize a large conference which brought in representatives from all the aboriginal courts in Canada to discuss how they developed their courts and how it benefited the community. His work resulted in a proposal on how to implement a similar court system in the Secwepmec Community.
Currently working for Kamloops based law-firm Morelli Chertkow LLP where he also articled, Ryan said he often compares his life to his law school friends who are currently work in the larger firms in Vancouver.
"We are doing the same kinds of things but I definitely have more freedom. The pace here is more relaxed, which gives me the opportunity to get involved in the community more."
Through his active involvement in the Rotary Club and the Kamloops Bar Association, Ryan appreciates having the time and opportunity to build contacts and develop relationship with people that will hopefully turn into clients.
"It's a small community which makes it really easy to meet people and get involved. The legal community here is very open and always willing to help, which has made the transition from school to work an easier one for me."